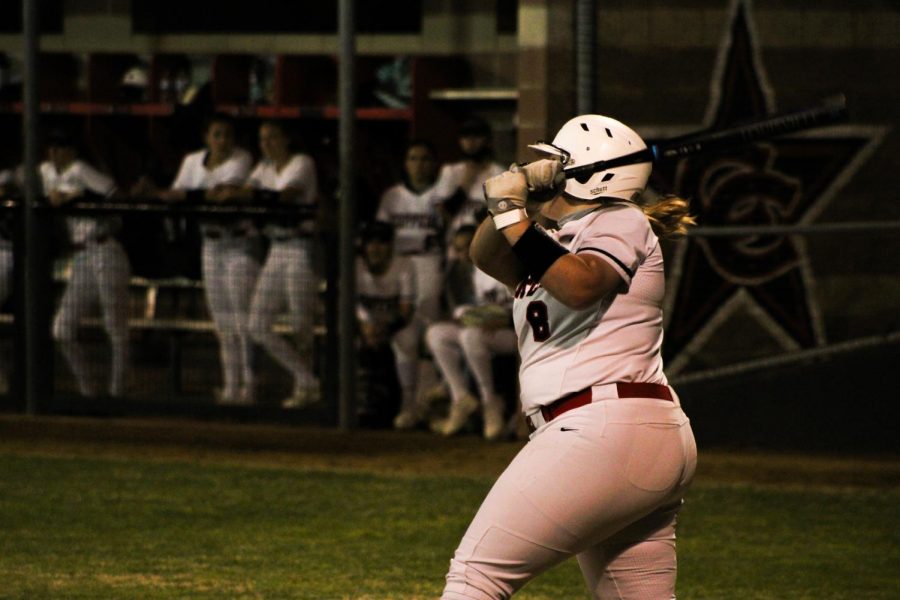 Sally Parampottil
Coppell played its second game of the District 6-6A season last night, winning the home opener, 6-3, against Plano West at the Coppell ISD Baseball/Softball Complex.
Coppell took a considerable lead from the start, getting three runs in the first inning to put the score 3-0 and keeping the lead for the rest of the night. After the first inning, both teams quickly struck out the second inning with no change in score.
"The more outs we got on our side the team's morale went down, and we really struggle with keeping our morale up and continuing pushing," Coppell pitcher Katherine Miller said. "So after we got a few outs it just went downhill from there."
A home run in the third inning helped the team's morale, and it kept increasing its lead, bringing the score, 6-0, at the start of the seventh inning.
"[The home run] helped a lot," Coppell coach Mike Dyson said. "[Plano West] never could get anything together."
Plano West made a comeback in the seventh inning, getting three runs and finishing the inning with players on second and third base.
"When it comes down to it you have to play everything very well or it can change in the matter of an inning," Dyson said. "They could have caught up, they could have made it, 6-6, 6-7."
The issue of morale came up again in the seventh inning, Coppell struggling to come together and get enough outs to finish the game.
"That last out was a little iffy," Miller said. "We didn't push through like we should have."
Coppell plays Marcus at 1 p.m. on Saturday at the Coppell ISD Baseball/Softball Complex.
Follow Mel (@melllvenegas) and @SidekickSports on Twitter.