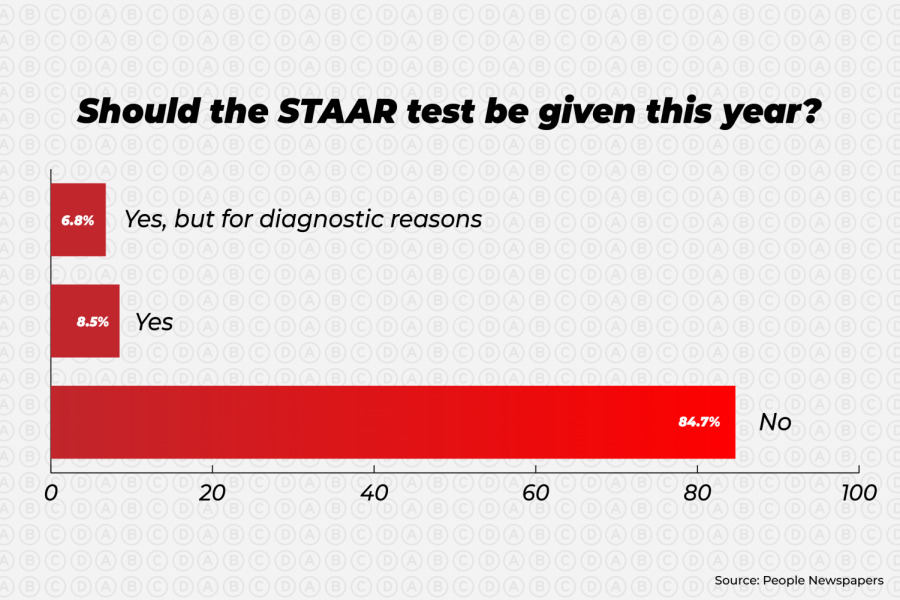 Srihari Yechangunja
The State of Texas Academic Assessment of Readiness, or STAAR, was recently announced to be required for algebra I, English I, English II, biology and U.S. history students to take. When People's Newspapers readers were polled, most parents of children taking the STAAR test believed it should not be given this year, and if it required in-person attendance, most states their child would not participate.
With classes being split between in-person and virtual instruction, some students have their entire day over Zoom and others go in person where they experience high school like no other class has before. 
This year has created an overwhelming amount of challenges for learners with stress, difficulty learning, lack of social interaction and now high schoolers enrolled in algebra I, English I, English II, biology and U.S. history will have to prepare for the STAAR exam after it was announced that they will not be cancelled as they were last year. 
Students have undergone what seems to be never ending difficulties and challenges and should not be required to take a standardized test on top. 
With some students attending school in person and others remaining at home, hindrances and inequities in learning are bound to occur. Both online and in-person students are facing a very foreign and trying high school experience. Students are tasked with academic responsibilities, extracurricular activities and without the cancellation of the STAAR exam, the stress of preparing for and taking a standardized test is insurmountable . 
Despite the different learning environment for all students, the Texas Education Agency (TEA) has decided to carry on with their plan of requiring some students to take the STAAR test in person from May 4-7. If high school students do not show up in-person to take the five specific subject related courses and their associated exams [English I, English II, algebra I, biology, and U.S. history], they may be prevented from graduating high school.
"In general, I don't think the STAAR should be held any year," CHS9 biology teacher Laronna Doggett said. "Coppell has made a push to 'redefine success.' This would be a great time for the state to redefine success. If this is going to continue to be a requirement, then taking the EOC while taking the class is the best option because the material is fresh in your mind" 
According to the American Institute for learning and human development standardized tests are ineffective at measuring student achievement in other areas considering the other factors that are not tested by standardized tests that still play a role in a student's academic performance, indicating that these tests do not display an accurate picture of student achievement. 
Studies of students that are of different ages have discovered a statistical association between students with higher scores on standardized tests and relatively shallow thinking. With the STAAR test being implemented, students are focused more on passing and scoring well on the test as opposed to actually engaging in the learning that they should be. STAAR testing does not promote a style of learning that is truly beneficial for students in the long run.
"The state simply wants data to determine the current academic standing of our students," CHS 9 algebra I teacher William Harrington said. "There are other means of assessments in which we as educators can implement to monitor academic progress and growth." 
In addition to the potential health risks, both physically and mentally, the pandemic and remote learning has exposed the deep inequities in the American public education system. According to Education Week, about two-thirds of district leaders reported that a lack of basic technology was a major problem compared to districts that have the smallest percentages of students from low income families, in which one in five district leaders reported a lack of basic technology being an issue. 
The TEA data shows that about 10% of Texas students lost engagement with online learning and students from low-income zip codes displayed lowered progress in online math coursework by 55.6 percent compared to data collected in January 2020. If students have not adequately understood the course content, as displayed by the lowered progress in online math coursework by a significant percentage, preparing for the STAAR will prove to be extremely difficult for them as they have to teach themselves or seek out help in order to learn an entire year's worth of material. 
"With students being both remote or in person, it can be difficult to provide the same opportunities to everyone," Harrington said. "Students that are remote or virtual also may not have access to the same in class supports that I generally provide to all my students. It is challenging for me to assess student learning when I can't actually see what my kids are writing down." 
This past school year has evidently produced anxiety and stress amongst students who were not prepared in the slightest. Continuing with the plan to require STAAR tests takes away time for social activities and requires students to constantly study for these tests on top of their normal coursework. 
In a study of students measuring levels of anxiety and stress faced during standardized testing during the 2015-16 school year cortisol (the stress hormone in the body) levels were about 15% higher prior to the week before a statewide test than they were during a regular week. During a normal school year, standardized testing has already proved to increase the stress levels of students to a relatively high level due to the pressures and emphasis placed on these exams. 
However, this is not a normal year. This is a year where students have had to learn during a global pandemic which has already brought stress and anxiety to high levels, but with standardized testing placed on top, students will face an overwhelming amount of stress that may detrimentally hurt a student's mental health.  
Students should not be tasked with handling the stresses of this year's high school experience and having to take the STAAR exam and dealing with a global pandemic. Students will potentially be facing a multitude of obstacles including inequities in remote learning and despite the push for standardized tests, they simply do not provide an accurate picture of student achievement and performance. If a measure for student progress is necessary, Texas should determine another way for this to be measured this year, otherwise  the effect of taking these tests will only be detrimental to students who have faced an already exhausting year. 
Follow @CHSCampusNews on Twitter.