Shifting gears: Wrestling fights back on Senior Night
By Torie Peck and Meer Mahfuz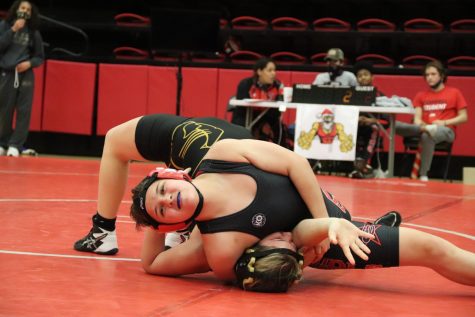 Saturday's match against Flower Mound senior wrestler Alec Groenquist marked Coppell senior wrestler Joel Hernandez's last of his six matches this weekend. Hernandez overcame Groenquist in a low-scoring, 4-2 match after three periods in the 120 pound division. 
Hernandez's win marked his sixth win of the weekend, defeating each and every single one of his opponents but his efforts could not lead the Coppell boys wrestling team to victory in all its duels. 
"[Friday] was a lot of people's first match," Coppell coach Chip Lowery said. "The speed of a match isn't something you can replicate, after we got that under our feet, we were feeling better about wins [on Saturday]."
The Coppell wrestling team hosted its annual Santa Slam Quads in the CHS Arena this weekend, defeating two out of its six opponents. 
On Friday, the Cowboys lost to Highland Park, 63-3, Frisco Liberty, 48-24, and 
South Grand Prairie, 39-33. The Cowboys came back Saturday for Senior Night, defeating the first two of their three opponents. They defeated Fossil Ridge and Arlington, each at 42-30, before falling to Flower Mound, 48-27, due to a lack of competitors in each weight class.
"We wrestled some tougher teams [on Friday]," Coppell assistant Ben Shaw said. "We put up a good fight and the guys showed a lot of heart. South Grand Prairie and Frisco Liberty [both gave us good fights], and we just need to fine-tweak some of our techniques and our execution [going into Tuesday's Tri meet against Allen and McKinney Boyd]."
Due to a lack of girls in each weight class, Coppell decided to wrestle in tournament style, meaning opponents from different schools were randomly paired across weight classes.
"We've been matching up by weight," Coppell junior wrestler Maria Husain said. "There weren't any girls in my weight class so I was bumped up [and the wrestlers] were heavier [than I'm used to]."
Some girls faced opponents up to 15 pounds heavier, putting lighter athletes at a disadvantage. However, after Friday's matches, the Cowgirls overcame these challenges and racked various wins from across many weight classes but official scores have not been inputted yet, according to Lowery.
Coppell hosts Allen and Mckinney Boyd on Tuesday night in the CHS Arena, at 6 p.m.
Follow Torie (@torielpeck), Meer (@Meer_Mahfuz) and @SidekickSports on Twitter.