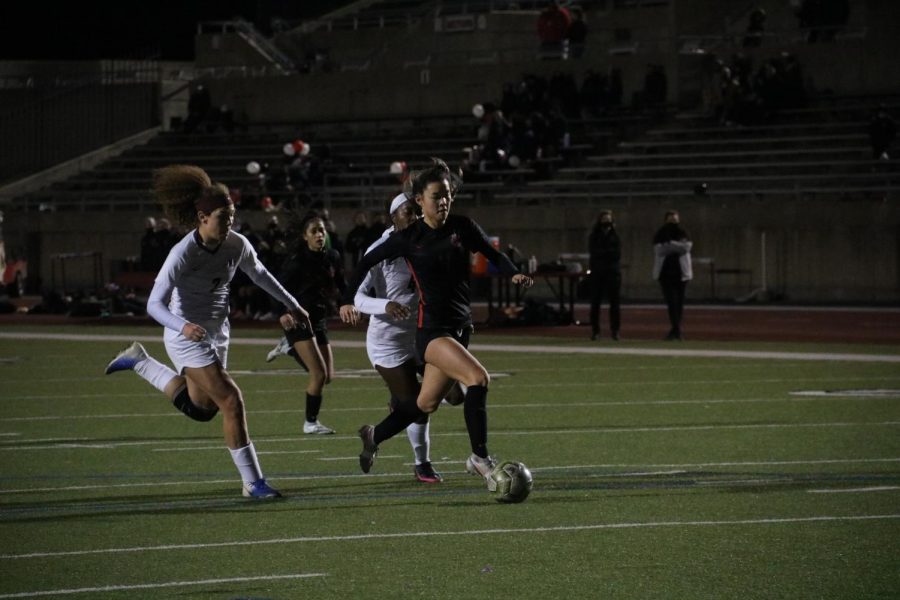 Angelina Liu
Within the first 20 minutes of the Coppell girls soccer team's Senior Night match against Lewisville, four goals were scored in an almost responsive format. 
The Cowgirls defeated Lewisville, 4-2, on Friday night at Buddy Echols Field.
"We started off strong and then Lewisville tied it up, which was a bummer, then went up another goal and they tied it up," Coppell coach Beca Sawers said. "We came out with energy and excitement in the attack but there was an aspect of being a little flat defensively. It was frustrating; it's not what you want when you score, you don't want to be answered that quickly."
Tied at 2 at halftime, Coppell's halftime talk put more defensive power into the Cowgirls' gameplay. 
"We talked about how we needed to bring some more energy," Sawers said. "We are an extremely talented team and we were playing flat, we weren't playing with very much energy so that's what I asked them to change and that's exactly what they did in the second half."
Goals by Coppell senior midfielder Jojo Alonzo and junior midfielder Michelle Pak, each assisted by the other, gave the Cowgirls a secure lead in the second half.
"Winning tonight gave us more insight and perspective on how we need to play and how we need to come ready to games," Alonzo said. "With the two weeks that we've had, eight games, we just needed a big win under our belt. We need to bring the mentality all the time, not just in certain games or certain halves. We need to play at top speed, top level, all eighty minutes of the game." 
Ending its second week of playing four matches, Coppell will have the weekend to rest and play the scheduled three matches next week, beginning by traveling to Plano East on Monday at 7:30 p.m.
Seventeen Cowgirls celebrated Senior Night with a ceremony before the match involving players' families. Throughout the match, messages from family and teammates to the team were displayed on the scoreboard. 
"It was a fun night to be able to celebrate the time the seniors have spent within the Cowgirls soccer program," Sawers said. "They've dedicated four years, a lot of time and energy into making the program what it is and they made this night a great one."
Follow Anjali (@anjalikrishna_) and @SidekickSports on Twitter.