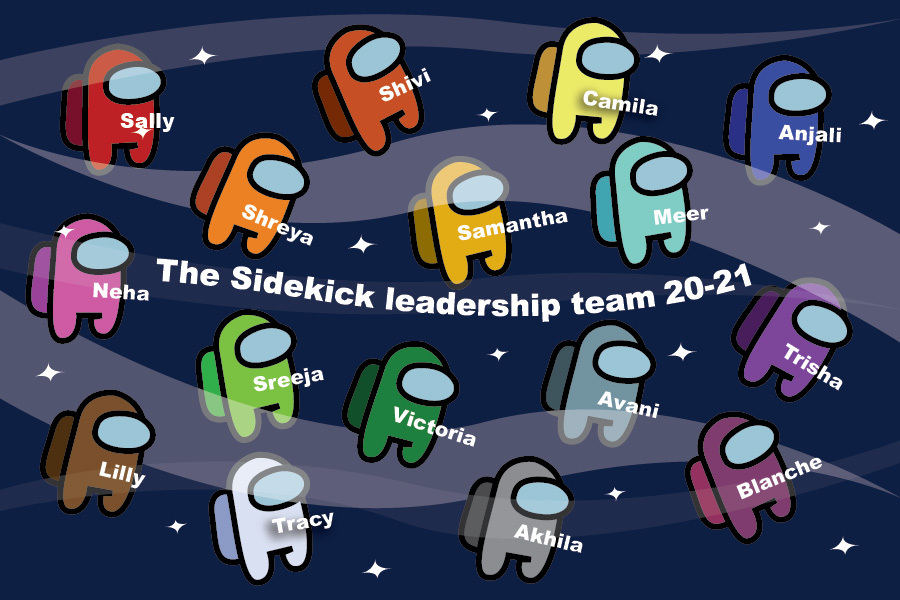 Samantha Freeman
Dear future incoming Sidekick staffers, 
Hi, I'm the editor-in-chief that got stuck in the school year cursed with COVID-19. Well – COVID, a presidential election, a second impeachment, capitol riots, a historic winter storm and a handful of other "wait-huh-what-how-"s, but you'll probably hear the COVID part first. 
It's been tough. It's been draining. It's been a never-ending series of adapting to what life throws at us while making sure we don't burn out trying. 
One day you're going to hear about us, the 2020-21 staff. You'll hear about me and the other editors and the Zoom calls and just about every genre of verbal story possible. You'll have your own Scholastic Journalism Week to celebrate and reflect upon what it is you do and why you do it despite all that happens. 
Today, the theme is "leadership matters," which leads to some introspection on just what makes a leader when the world turns upside down. 
From an editor's perspective, it means a lot of invisible bullet points being added to your job description. You take on more assignments to help out, you work to support each other, you find new ways to do what you need to do. There's no doubt that this leadership team has done more than any other to work around obstacles. Look up "persistence" in the dictionary, you'll see our photos all lined up. 
However, I'd like to shift the focus to staffers new to the program who have absolutely killed it as well. 
You may not think it when you're new on staff or if you're a returning staffer without a fancy title next to your name, but your leadership matters a lot as well. This year, our classes ended up being stratified rather than blended, so incoming staffers had to step up. Their introduction to the program may not have been ideal, and the lost experiences of this school year have skyrocketed with each passing month, but they made the most of it.
So when you get here, lead by example like they did. Maybe your situation will be different, maybe you won't be forcefully thrust into the world of journalism with your helpline existing solely through a screen. Even if you're back to normalcy, take a little lesson from the first-year staffers of 2020-21. 
Yes, follow the expectation and be a staffer who meets their deadlines, communicates, is flexible and all that. But to lead, do a bit more; it makes times like these a lot easier to get through. 
Be the staffer who's learned to do nearly everything, who can go above and beyond in design, who's conquered visual media and has eyes on writing, who covers the same number of sports events (if not more than) I did during my tenure as executive sports editor, who has mastered the art of multiple angles. 
Be the staffer who takes just about every type of photo, who can use a range of different graphic forms, who's dabbled in almost all sections of writing. Be the staffer with an adorably unique art style, with elite camera skills, with just a lovely way with words. 
Be the staffer who adds a joke or greeting to every text requesting copy editing, who joins in the optional Zoom calls to simulate a work environment, who shows up to a virtual social to blow us away with Among Us knowledge, who isn't afraid to push the boundaries of a comfort zone, who has some of the most interesting non-business related conversations. 
 Be the staffer who can make a budgeting infographic look visually appealing, who can take impossibly diverse photos of a single subject, who can break news like a boss. Be the staffer who's found a penchant for features, who's constantly pushing out photos, who entered this fast-paced program for the first time as a senior. Be the staffer who desires to learn more, who brings a smile to people's faces, who indulges my occasional barrage of lengthy texts. 
Be like them. They're leaders too. 
When the current leadership team graduates – or is jettisoned out to space, whichever comes first – it's going to be people like them to deal with the hustle and bustle of a newsroom. It's tough; not just in a pandemic year, but in every year. But just as I look up to people as role models, you will too, and you'll slowly take in and emulate the aspects of leadership that you so adore from them. 
Have the best of luck, the best of times and the best experiences you can during your time on staff. By the end of it all, you'll see yourself grow as a leader, as will your peers. 
With love and hopes that your year is just a tad bit less historic, 
Sally Parampottil 
Editor-in-Chief, The Sidekick 
Follow Sally (@SParampottil) and @CHSCampusNews on Twitter.