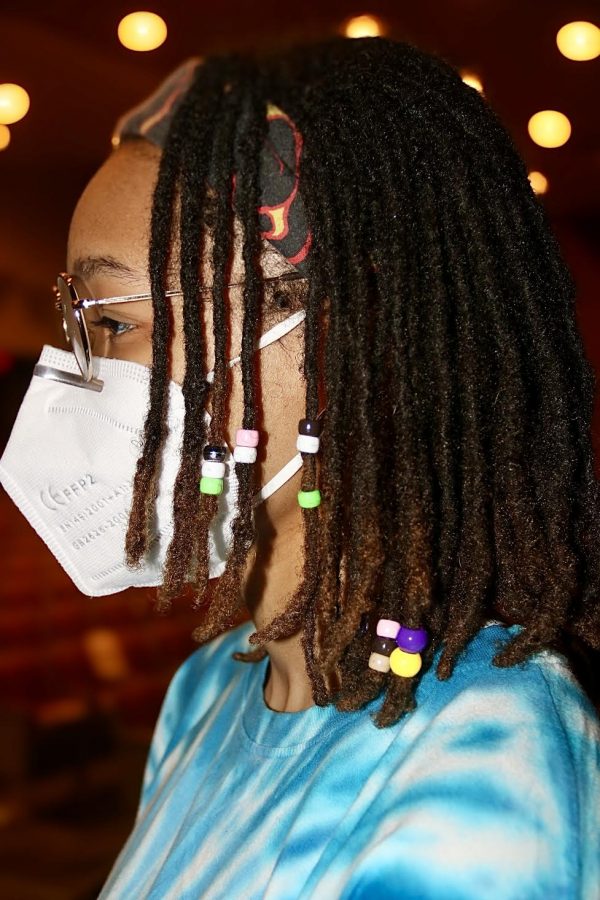 Kyah Jones
In many households with young children, you might hear the snip of scissors as they give a doll a haircut. However, in the Green residence, Coppell High School senior M.J. Green kept their dolls pristine. 
Since they were a child, Green has had a natural tendency to collect, from second-hand clothes to vintage stuffed animals. This has combined their dream job of being an archivist with their talent in the theater department by coming into their role as Drama Club historian.
Green holds one of two historian positions in the CHS Drama Club. Their job is to document and photograph different events and moments throughout the school year. At the end of the year, they put all those photos in a slideshow to showcase their work and allow the members to look back and feel those emotions resurface.
"Making M.J. the historian was a match made in heaven," CHS head theater director Karen Ruth said. "Going into my interview with M.J. [for the historian position], I knew they have an artistic eye, work hard and are reliable. When they told me all about how much they loved photography, I knew it was a good pairing."
In the future, Green hopes to receive a Master's degree in archival sciences or information sciences. This field of study will act as a stepping stone for Green to become an archivist, someone who works alongside history to organize and record information to preserve it.
"I'm drawn to being an archivist because of my love for history," Green said. "I'm fascinated with old documents and media like newspapers, movies or photographs. I want to work in close quarters with history, so it's my dream job. One day, I was scrolling through career options and once I came across it. I instantly knew that I wanted to do that."
Theater and history often go hand in hand. In the past, the department has taken part in historical plays or ones that are based on real stories. According to CHS senior co-historian Bella Null, reenacting those moments is what keeps those memories alive.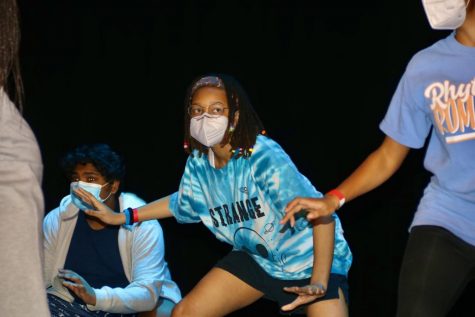 "As a theater department and community of Coppell, we want to tell students of color that they matter," Ruth said. "We see you, we hear you, and we want to represent you. The world of theater is dominated by white writers, directors and actors, but we are in a community that is full of all these amazing, interesting cultures, and it's important to celebrate and feature that."
Green landed the role of Mama Euralie in the spring musical, "Once on the Island." In light of the Black Lives Matter movement, Ruth changed the musical last June from "Legally Blonde" to "Once on This Island" to focus on the themes of racial and social injustice. According to Ruth, "Legally Blonde" would not have been appropriate at this time. The roots of the musical are Haitian, which infuses a uniquely Black perspective and music. About 80% of the cast consists of people of color.
"A lot of minorities weren't getting a lot of representation within the shows [in the past], and it was always the same people getting the leads," Null said. "However, this musical highlights the Black people within our department, and Ruth works to make sure that everyone gets their deserved, special moment."
According to Green, the small percentage of Black students can make it difficult to keep microaggressions, subtle forms of racism, in check. Not having people who look like them or have similar cultural experiences can make it difficult to relate to others.
"In the past few years, I've become more comfortable with connecting, embracing and showing my Black identity," Green said. "Before, I saw a need to blend in and hide elements of my culture, style or behavior, like how I grew up or how my family talks at home. Recently, I've been able to be more of myself."
Green celebrates their Black identity through a powerful expression of hair. Through the culturally significant look of locs along with beads. From signifying social status to making a statement, for centuries, beads have been paired with Black hairstyles. They share this particular style with their kin and roots. They walk proudly with their heritage on their head.
"'Fearless' is one of the first words that comes to mind," Ruth said. "When they walk into an audition, perform on stage or work in class, they have this assuredness about them that allows them to create on a different level. I love how they have just no qualms about being uniquely who they are. I have honestly been so lucky to have worked with them for the last three years. They have an amazing career ahead of them."
Follow Sapna (@sapnaamin7) and @CHSCampusNews on Twitter.