Coppell Observer: Super Bowl for Dummies
Coppell Observer is a humorous column about life as a teenager. Please be warned that any and all sass is due to the writers' similar situation as adolescents (even though we feel so much older). You, the reader, should not take any of these words to heart. Seriously. If this article makes you laugh, leave a comment.
Are you a loser who doesn't watch football? Do you have oodles of friends who will be glued to their TV screens this Sunday evening? Have you been questioning how you can ever possibly fit in? Fear not, my football deficient friends, for this guide will teach you how to artfully conceal your cluelessness on this unofficial national holiday. 
Football, a Summary: 
Perhaps the most daunting thing about watching any football game is the pressure to understand what the heck is going on. Jargon like "first down" and "line of scrimmage" and "football" can intimidate the common man – and that is OK. 
It would take a while to explain the complexities of the sport in enough detail to make it make sense, so I will simply quote a former Sidekick executive sports editor who once broke it down for me:
"There's an offense and a defense." 
He never expanded past that, and so I assume that's all you really need to know about football to understand it. Just occasionally yell, "Are you kidding me, ref?!?" at the TV every time you see something that looks like a yellow paperweight get thrown and you'll be fine. 
Key Players: 
First, you must know that the "GOAT" is the greatest of all time. Be prepared for a flood of farmers who begin the annual argument over just who that GOAT is. Here are a few members of the herd you might hear often:
Tom Brady – You may know him as wildly successful Brazilian businesswoman Gisele Bündchen's husband, but this man is more than just a pretty face. That's right, this 6'4 muscle man with the diet of a supermodel is not solely arm candy – he actually has a job that he's kind of good at. With enough Super Bowl rings for a mutated, 6-finger hand, this quarterback is hungry for some more bling. After a bunch of time up in New England, the now 43-year-old Brady decided to do what other elderlies do and moved down to Florida. Somehow, he ended up on a football team instead of in a retirement home, but hey, we know Patriots fans who were deflated that their messiah left them are living vicariously with yet another Brady Super Bowl appearance. This is a dude you either hate or love to hate; pick a side and go all out with it.  
Rob Gronkowski – Ah, Gronk. The peanut butter to Brady's jelly, the salt to Brady's pepper, the one-game unnecessary roughness suspension to Brady's four-game "I'm not squeezing the balls, that's not a part of my process" suspension. This man-child has retired and unretired, and now, he's gronking around with Tom Brady in Tampa Bay. Confused? Don't think about it too much, the dynamic duo are back, and that's all you need to know. 
Patrick Mahomes II – While it can be tempting to compare the young Kansas City quarterback to his father of the superior sport (baseball, duh), it is important to acknowledge his success independent from his super cool dad. Mini Mahomes led the Chiefs to a Super Bowl victory last year and won MVP. Patty Jr. was born and raised in Texas and attended Texas Tech. Mahomes the Remix used to be a dual sport athlete, splitting time between baseball and football. Patrick: The Squeakquel was the second youngest quarterback to win a Super Bowl and is looking for a repeat victory. 
Any other names are irrelevant.
The Food: 
Super Bowl Sunday is also known as "Neglect Utensil-Based Food Day." This is a day where all of America collectively stops using forks, spoons and knives. Eating pizza? Garlic knots? Wings? Nachos? Any variety of dippable objects and some form of sauce? Someone brought some rather delectable looking macaroni and cheese? Use your hands. 
It's called culture. 
Gather your junk food and neglect your diet for the day. If you somehow managed to keep a New Year's resolution to eat healthy up until this point – well, sorry, you need to give that up. It's the Super Bowl for heaven's sake, feast like a wealthy man in a Roman colosseum.  
The Post-Game Frenzy: 
You may not think much of it now, but after the victor is declared, you will have your own battle to face. The moment you log onto social media, it will be time to put all your hand training to use. Whether it be tapping through a million Instagram stories of the exact same post being reshared over and over or scrolling through miles of Tweets, there is work to be done. Time to burn off the fat you just gained from all the eating. 
And if you survive the evening and live to see the morning after? Well, my friend, I am glad this guide helped. 
Follow Sally (@SParampottil) and @CHSCampusNews on Twitter. 
About the Contributors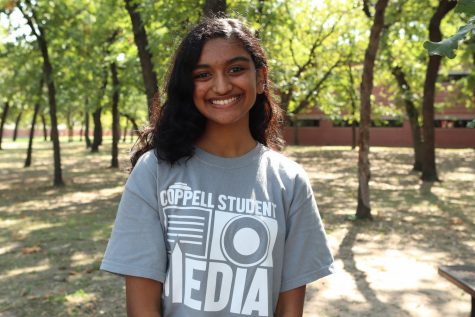 Sally Parampottil, Executive Editor-in-Chief
Sally is a senior and the Executive Editor-in-Chief on The Sidekick. While she's done just about everything possible on staff, she loves writing for sports...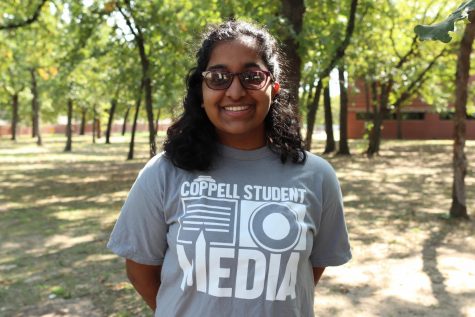 Trisha Atluri, Advertising/Circulation Manager
Trisha is a junior at Coppell High School and the advertising/circulation manager for The Sidekick. She enjoys playing ukulele and discovering new music...