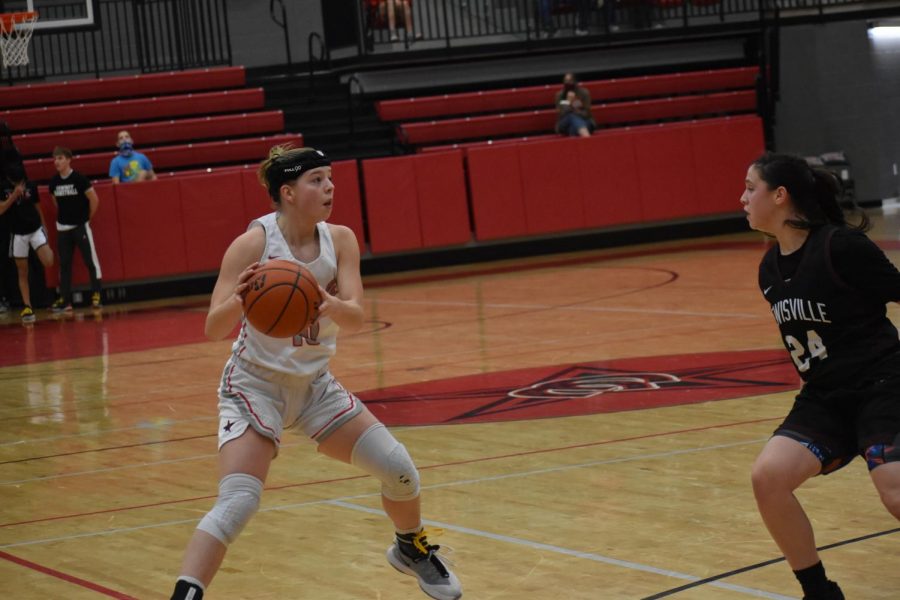 Nick Larry
Though it may be the last game of the season for the Coppell girls' basketball team, its players will end it in familiar territory. Coming off a 57-34 loss to the top ranked team in District 6-6A, Plano East, the Cowgirls face Flower Mound tomorrow at 6:30 p.m. at the CHS Arena. 
"I'm glad that it's a home game, especially for the seniors so they can be surrounded by everyone who's been with them throughout their journey," Coppell sophomore guard Saiya Patel said. "It being a home game will really help us, and hopefully, we can get the win."
Sitting at third to last in the district, Coppell will not advance to the playoffs. Flower Mound, which ranks one above in standings, is also not in playoff contention. 
"We played them the first round of district, and we didn't do as well offensively because they're a lot better and defensively – mainly defensively," Patel said. "We gave up easy baskets, and offensively, we got a lot of chances but we just couldn't put them away. Doing the little things will help us be successful in the game tomorrow."
However, Patel thinks the team has improved since the first round of district play. 
"At first, we were making a lot of mistakes in the game," Patel said. "Over the course of the season, we became a little more consistent. There was one period where we had a three game winning streak. We were very successful as it progressed and if we had done that early in the season, we would have had a chance at playoffs this year."
Follow Sally (@SParampottil) and @SidekickSports on Twitter.