New home, same family: Transfer thriving in familiar environment
For those fixated upon the Coppell basketball team this season, there will be some new faces that they will not recognize. Out of the four transfers, Coppell junior guard Naz Brown, who comes to CHS from Hurst L.D. Bell, stands out because of his concurrent relationship with Coppell junior guards Ryan Agarwal and Anthony Black.
This relationship developed over years of time spent together both on and off of the basketball court. Brown is excited about the opportunity at his new school. 
Having Black and Agarwal on the basketball team, in addition to other friends and the amicable living environment, appeals to Brown.
It is a match made in heaven.
Following seventh grade at Hurst Junior High, Brown met Agarwal, his future Coppell teammate and close friend while playing against Agarwal at the Advantage Sports Complex in Carrollton, and they soon formed a close bond. Agarwal would later join Brown's club team in eighth grade, 3d Hoops Academy's 3d EMPIRE NATIONAL 2022, forming a dynamic relationship on and off the court between him, Brown and Black – whom Brown met while playing Mid-Cities Basketball in third grades.
"
We're really really close friends, and we'll hang out with each other all the time"
— Coppell junior guard Ryan Agarwal
"When you have teammates and y'all are on the same club and school team, you're pretty much with each other a lot of the time. We've had other times where we hang out and it's not basketball related, we just come over and play video games or whatever it may be. We are pretty tight."   
Competitively, they challenged each other. Pushing each other to be their greatest. Thriving off of each others' energy. Growing each others' basketball prowess. Becoming brothers in the process. 
As a result, all three earned a Texas Top 100 ranking as class of 2022 Texas recruits with Agarwal at No. 16, Black at  No. 18 and Brown at No. 21.
While they have been at 3d Hoops Academy together since eighth grade, the three did not all play together in high school. While Black and Agarwal were sophomores at Coppell, leading it to a District 6-6A championship, Brown was at LD Bell, leading it to a District 3-6A championship.
The transition from L.D. Bell to Coppell for Brown has had its own challenges, but his playmaking ability and teammates drive him through any adversity.
"It's been a little bit different; at Bell it was 'go ahead and score'," Brown said. "Here at Coppell, it's a lot more professional, and I like [Coppell's system]. [My teammates] have always been really welcoming. Since the first day I came, I consider them my close friends, my brothers."  
While Coppell coach Clint Schnell incorporates a more detail-focused, defensive approach into the Cowboys' game plan compared to L.D. Bell, Brown's integration has been relatively smooth due to his strong partnership with Black and Agarwal.
"[Brown's chemistry with Black and Agarwal] makes [his] transition a lot easier," Schnell said. "The reputation that [Black] and [Agarwal] both have on the team lets them vouch for [Brown] and convince the other guys to buy into what he brings to the table, too."
Coppell gains a valuable competitor in Brown that not only assimilates into Schnell's game plan but is also relentless in the team's pursuit of success.
"
[Brown] brings a bulldog mentality, a take-charge, 'you're not going to stop me' mentality to the way he plays"
— Coppell coach Clint Schnell
"He's a dynamic player; he can shoot from the outside. He can go and attack the rim; he can find the open teammate. He has the potential to be a really good defender with his athleticism and his mindset. The sky's the limit for a player like him." 
Having won back-to-back district championships but not getting past the area round for the last two years, Coppell's goal this year is trying to break through the second round of playoffs. Similarly, Brown has yet to push past the second round of playoffs. 
"[District 6-6A title] is definitely within our reach," Schnell said. "The ability to push past that [second] round is definitely on the table as well. Once you get that far in the playoffs, the assumption is that you are a pretty good team and things are going your way, so reaching that state level and competing for a state championship is a very realistic thing." 
Throughout the draining offseason, Brown has pushed himself to build new bonds, become stronger and have a great time adapting to his new home and lifestyle as a Coppell basketball player.
"I'm very excited [to start this season]," Brown said. "It's a good, new experience for me and I can't wait." 
Follow Meer (@meer_mahfuz) and @SidekickSports on Twitter.
About the Writer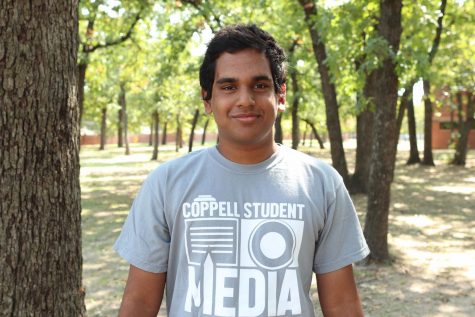 Meer Mahfuz, Co-Sports Editor
Meer is a junior and the co-sports editor for The Sidekick. During his free time, Meer enjoys watching sports and listening to music. You can contact him...