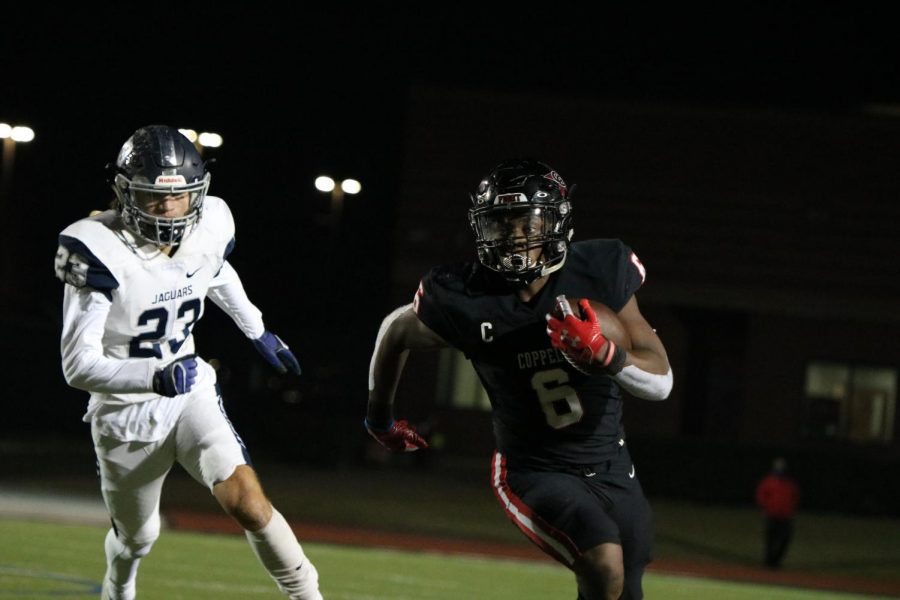 Tracy Tran
A cloud of white hung over the west side of Buddy Echols Field, remnants of the Coppell student section's annual powder toss. With just over two minutes in the third quarter, Flower Mound was geared to punt.
Coppell sophomore Carter Kincaid blocked the punt, and senior defensive back Canon Peters returned it for a touchdown with 2:19 in the third quarter – neither the first nor last Cowboys touchdown of the night.
"On that punt, we walked through it this morning, and coach said it was going to happen," Peters said. "When it happened, I was like 'oh, he was right.' The ball was right in front of me, it was almost like a gift."
Last night, Coppell defeated Flower Mound, 51-28, in its last game of the regular season at Buddy Echols Field. With their victory, the Cowboys secured a spot in the playoffs, taking second seed from District 6-6A in Division II. 
Coppell will face state-ranked Denton Guyer on Saturday at 1 p.m. at C.H. Collins Complex in Denton for Class 6A Division II Region I bi-district playoffs. 
[email protected] ends their last home game of the season with a win, defeating @Fmhsfootball, 51-28. @CoppellSports1 #txhsfb #LocalEyesLocalNews #CHSRelentless pic.twitter.com/1qoeKy9y9I
— Sidekick Sports (@SidekickSports) December 5, 2020
"It's probably the last time I'm ever going to touch that field again," Coppell senior running back Jason Ngwu said. "To know we won and it was a big win, it really meant a lot to us, the seniors." 
Ngwu rushed for 263 yards last night, surpassing 1,000 rushing yards for the season – his first season reaching this milestone. He scored three of Coppell's touchdowns: a 27-yard rush with 7:32 in the first quarter, a 12-yard rush with 7:48 in the second quarter and a 44-yard rush with 5:23 in the second quarter. 
"It was awesome," Coppell senior quarterback Ryan Walker said. "I didn't have to do a lot of work today, Jason was running the ball, [Coppell sophomore running back Michael Rodriguez] was running the ball, our offensive line did a great job, and that was a great team win. I'm happy for it." 
Walker, who surpassed 2,000 passing yards last night for the season, scored on a 14-yard run with 2:23 in the first quarter, and Rodriguez scored on a 36-yard rush with 8:49 in the third quarter. Coppell's other touchdown came from a 1-yard pass from Walker to junior wide receiver Dylan Nelson with 11:05 in the fourth quarter and Coppell senior kicker Tyler Reid scored a 25-yard field goal with 3:50 in the third quarter. 
"Next week, [Guyer] is going to be ready for the run because we did such a good job running the ball this week," Walker said. "Our playmakers are going to have to make plays in the passing game, and we're going to have to push extra hard to get the running game going."
While Flower Mound took an early 7-0 lead with an 11-yard touchdown pass from junior quarterback Nick Evers to junior receiver Cade Edlein with 8:18 in the first quarter, Coppell matched and surpassed it. The first half saw the two teams answer each other's scores, Flower Mound scoring twice more on a 73-yard receiving touchdown from Evers to senior receiver Isaac Carpenter with 9:52 in the second quarter and a 29-yard receiving touchdown from Evers to Edlein with 2:20 in the second quarter. 
At halftime, Coppell led, 28-21. 
The second half saw a significant change for Coppell, coming out with a stronger defense and preventing Flower Mound from scoring anything more than a 14-yard touchdown from senior quarterback Luke Clayton to senior receiver Jack Wells. 
"We came out really fast," Ngwu said. "We let up a little bit – a few busts, a few mistakes – in the first half, but second half, we corrected all those mistakes. We all came together and started communicating, and we blew them out."
According to ChampionSports, this is Coppell coach Michael DeWitt's 50th win as head coach for the Cowboys. 
"The kids play with a lot of heart, a lot of passion," DeWitt said. "We ran the football very well offensively. Ryan did a really good job as quarterback, taking what they were giving us. They were trying to play soft coverage and prevent the deep ball, and he did a great job of checking down. Defensively, we responded well. They were really good on offense, and they did a great job. We got some turnovers, we blocked a punt, we got some takeaways and turned them into points, so I'm proud of the kids' efforts."
Follow Sally (@SParampottil) and @SidekickSports on Twitter.