Setting the standard: Young's encouragement, drive on court helping lead team to victory
The sound of sneakers on a waxed floor echo throughout the gym. The crowd sits on the edge of their seats, waiting anxiously for the outcome of the match. Bump. Set. Spike. Shouts of joy fill the arena as the Coppell volleyball team clinch another victory. 
Coppell sophomore setter Taylor Young is a second-year varsity volleyball player. She is known on the court as not only a competitive and skilled player, but a teammate who is willing to support her team and encourage them.  
"Her personality lends itself to her position," Coppell coach Julie Price said. "Our ability to be successful is based on her connections with the hitters. She is the first one to say 'hey, that's my fault' or 'hey, I got that,' which gives our hitters the freedom to move onto the next ball." 
About two months ago, the team decided it was unable to continue with its current rotation because of a player being absent for a couple games. This resulted in the current rotation, where the hitters cover the front row while Young sets for them. In the original rotation, Young set in the back row. During the District 6-6A match at Flower Mound, Young noticed how much easier it ran. 
"I like the new rotation a lot better," Young said. "It put us better in the front row. Running the front row is easier and blocking for me is better. I like blocking more than passing." 
In addition to being a talented setter, Young is typically the first to celebrate a player when they get a great swing or block. This keeps the team close and makes for a good, nurturing environment on court. 
"We get really frustrated at times, and she keeps us in check," Coppell sophomore middle blocker/outside hitter Reagan Engler said. "She always tells us to remember what we need to focus on and what we're doing." 
Young has been playing volleyball since she was 8. At first, Young didn't think much of it, but soon began to put her focus on the sport. While Young is often one of the most aggressive and driven players on court, she keeps the team going with her vibrant personality. 
"She's a really good athlete, she's smart at the net, she's a good block, she jumps very well and she's funny," Price said. "I would say she makes me laugh every single day." 
Outside of volleyball, Young enjoys drawing and listening to music. Because a lot of time goes into the sport, it makes it difficult to manage homework and other responsibilities. However, it is still rewarding as it makes Young genuinely happy. 
"Taylor has a very unique personality, and she's very outgoing and a very fun person to be around, on and off the court," Engler said. "She's one of my favorite people to be around. She's just real and down to earth." 
Follow Angelina (@angelinaliiu) and @SidekickSports on Twitter.
About the Writer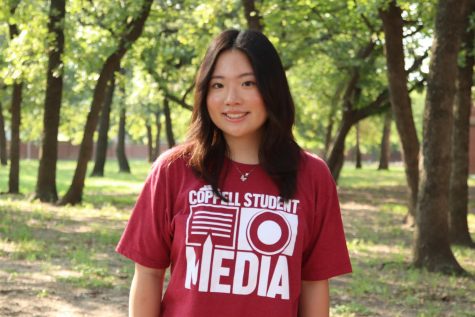 Angelina Liu, Visual Media Editor
Angelina is a junior and the visual media editor for The Sidekick. In her free time, she likes to listen to music, spend time with friends and thrift....